Posted by Christina on January 8, 2009 at 11:51pm

Added 8lbs weights to my reverse lunges. I do have a little balance issue but i'l over come that.

I'm still working through my push ups like a turtle. i get them done but it's a fight from rep 3 onward. Is anybody else experiencing this struggle? or have you?

the other movement I'm finding challenging this week is the side plank w/ pulses. i just can't seem to comfortably position myself at my feet to stay up.

I wind up bending the bottom leg to balance without hurting my feet or contorting them in a weird position. Any suggestions ladies?


Maybe i just need to pray on it and God will give me the little bit of insight i need to over come these challenges. I think it's my right side that is weaker than my left side but i am determined to get stronger in this one.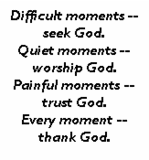 I will just have to think and pray and work harder.


UGH!